WELCOME!
We are a colorful store with fun items for every day life. Specializing in women's clothing, accessories, jewelry, gifts, and decor. Located in The Coolest Small Town in America, Lewisburg West Virginia. Visit our summer location at The Greenbrier Resort.
COLOR MY UNIVERSE
THERE IS AN OVERWHELMING FEELING OF PURE JOY THAT PEOPLE GET WHEN THEY STEP INSIDE THE WORLD OF KERRI ROSENTHAL—a fresh and slightly unpredictable Home and Wearable lifestyle brand. Everything Kerri makes is completely inspired by and derived from her original artwork. An award-winning interior designer, artist, and stylist, Kerri's art and design work has been featured in Architectural Digest, The New York Times, The Los Angeles Times, Luxe, and on the walls of people's homes throughout the world. Her colorful and iconic "Drippy Heart" series defined her unforgettable style that is distinctly and unmistakably, Kerri Rosenthal.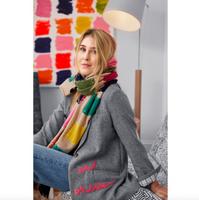 Visit Us!
MONDAY - SATURDAY 10 - 5
OPEN SOME SUNDAYS.
CALL TO MAKE A SHOPPING APPOINTMENT IF YOU CAN'T MAKE IT DURING BUSINESS HOURS!
304-646-5445
937 WASHINGTON ST. W
LEWISBURG, WV 24901