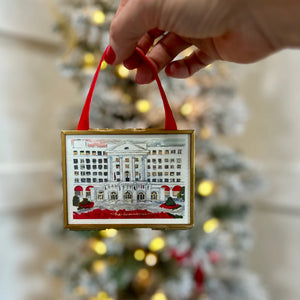 The historic Greenbrier Resort is an iconic piece of history dating back to 1778!  It has hosted many presidents and diplomats and served as a hospital during the Civil War.
The perfect gift for any resident of West Virginia, couple who was married there, or anyone who is as obsessed with The Greenbrier as me!
Original painting printed on fine art watercolor paper. 
Each ornament is 4"x 3" in a brass and glass frame with red velvet ribbon.  It also has a stand on the back if you'd like to leave it up year round!
Original Artwork