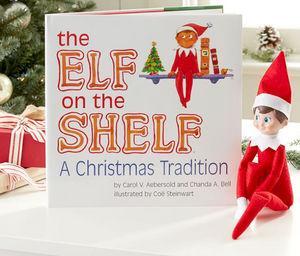 The Elf on the Shelf® has captured the hearts of children everywhere who have embraced the magic of adopting their very own scout elf from the North Pole. Each Christmas season, the elf works as Santa's eyes and ears, traveling back to the North Pole each night to report in.
DETAILS THAT MATTER
SANTA'S LITTLE HELPER - every night This Scout Elf will return to the North pole to say whether your family has been naughty or nice. Santa takes that information every night until Christmas Eve when he decides if you're getting presents or coal this year.
ADOPT: Santa set up official adoption centers online and in stores throughout the world so you can adopt the perfect elf for your family. Each box set comes with a beautiful storybook that explains the tradition and the work Scout Elves do for Santa.
NAME YOUR ELF! When you give your elf a name, they receive Christmas Magic that enables them to fly back and forth to the North Pole each night. Scout Elves make your season magical with a direct connection to Santa.
FIND THEM EACH MORNING: Wake up each morning and race to find the exciting new spot where your elf has landed! Sometimes, Scout Elves create unique – or even silly! – scenes to add extra joy and laughter to your Christmas season.
KEY PRODUCT POINTS
Written by: Carol V. Aebersold and Chanda A Bell.
Illustrated by: Coe Steinwart.
Features a doll made of 75% polyester and 25% plastic.
Doll clothes are non-removable.
Recommended for ages 3 years old and up.
Hard cover.
Imported.
THIS SET INCLUDES
1 Boy Elf®, 1 artfully illustrated storybook, 1 keepsake box, and official adoption certificate.